Maintenance Must Go On
April 27, 2020
Why I got an Oil Change in These Turbulent Times
Hi, I'm Sydney. I'm a wife, grammar nerd, and coffee lover. And, to be quite frank, I knew nothing about proper automotive maintenance before I started working at BG. But now? You bet I'm getting my car in the shop before my oil change light comes on.
Late last month, I realized I was slightly over my recommended service interval for an oil change.
Of course, I hadn't yet made an appointment (in the middle of a global pandemic, I think I get a pass). With everything going on—my husband and I are house hunting, on top of his recent furlough, plus the pandemic—to say things have been hectic is an understatement.
But amidst all the chaos and turbulence, we keep marching forward. That's what we all have to do. Even with things we may have forgotten about, like vehicle maintenance.
This persevering spirit was most apparent when I brought my car to my local shop, Novacek Automotive in Wichita, KS.
I chose to wait for my vehicle in the waiting room. I saw, as I always do, a very clean environment, but with one noticeable addition: two trusty bottles of hand sanitizer. The message was clear: "We will take care of your car AND you."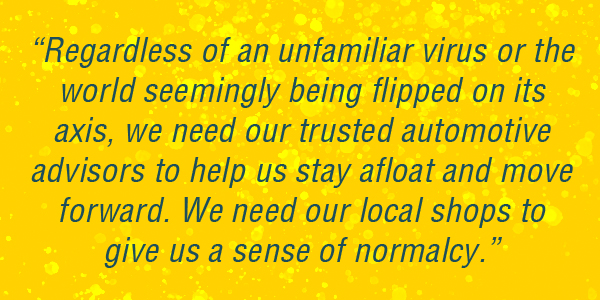 So I got to talking to Joe, co-founder of Novacek Automotive, (from a safe six feet of course) and asked how things have been going since COVID-19 hit.
He shared that, for the past two or three weeks, his business has been steady. He hopes that doesn't change for the sake of his employees, because they get to stay open as an essential business.
He believes that since people have the time and can get their cars maintained while keeping a safe physical distance, they're trying to fit in maintenance. Even those who are well beyond their recommended intervals are coming in.
I wanted to know if customers appeared hesitant or were unsure about getting services done. According to Joe, "Everyone [in the shop] doesn't appear to be scared. Just going through life like the rest of us."
I just thought what a beautiful sentiment. We really are just working through life, resilient to whatever we may be facing. What a great testament to the human spirit, to keep moving forward when normalcy comes to a grinding halt.
And let me tell you something, just because you're quarantined does not mean your vehicle maintenance pauses. For a lot of us, our vehicles are the only way we can get to stores and pharmacies for essential supplies.
This is why the Department of Homeland Security identified "automotive repair and maintenance facilities" and "employees who repair and maintain vehicles" as "essential critical infrastructure workers." We simply cannot function without them.
Regardless of an unfamiliar virus or the world seemingly being flipped on its axis, we need our trusted automotive advisors to help us stay afloat and move forward. We need our local shops to give us a sense of normalcy.
After all, there really is nothing more "normal" than an oil change.
I've seen many shops and dealerships over the last couple weeks offer new services, like no contact pickup and dropoff. Even saw one with special service times for the elderly or at risk. This is a true testament to the quick-adapting, empathetic automotive industry.
Thank you shops, for doing everything you can to stay open and keep your customers safe. I needed maintenance in this time of crisis, and I'm sure there are many others just like me.
I'm proud to say I support my local shop through the good and the bad, and they support me.